German literatures and cultural interferences in the Danube region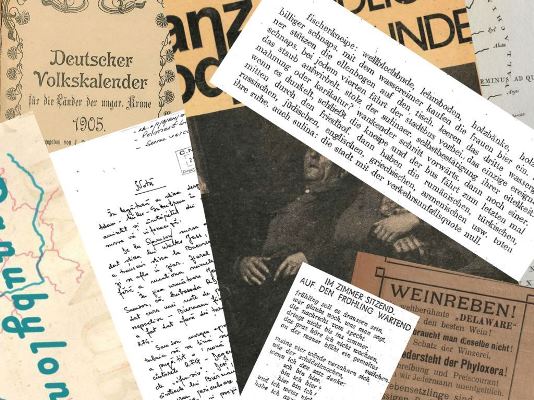 The research focus lies on German-language literary and adjacent cultural texts (newspapers, journals, calendars, advertisements) as media for self-interpretation and description of smaller and larger groups in South East Europe. They render visible border crossings and interferences within these multicultural regions as well as at the interface with the German-speaking area.
Studies on German literature from Romania in the period from 1945 to 1989 highlight correlations between cultural policy, state-initiated surveillance mechanisms and literary production.
With the increasing transformation of German minority literature from Romania into a migrants' literature, the focus of attention also shifts to adjustments in thematic and poetic instruments after their "arrival" in the German literary landscape. Also of interest are the development of a poetic style that is the expression of rootlessness, the depiction of areas of contact and transfer, cross-border communication, difference and conflicts.
By placing a thematic focus on the Danube, the river's role in the self-positioning of societies is debated, as is treated in literature and film.
In the 2015 and 2016 summer semesters, block seminars on the topic of the Danube were organised on Szentendre Island on the River Danube near Budapest, which were attended by students from countries in the Danube basin.
In teaching at the Department of German Studies at the University of Tübingen too, the focus has been on German-language literary production from South East Europe. However, a link was mostly made from South East Europe to literature from the German-speaking area, either genre-specific through a transregional observation of village tales or through a comparative view of poetic and political aspects in the works of German-language migrant authors alongside German authors writing in Romania.
The Linguistics team is also responsible for coordination and supervisory tasks. These are conducted alongside the ongoing Literary Studies research projects.
Current and completed research projects
German Literatures in Romania 1918-1933. The Production of the Elites
Reading the Danube. (Trans)national narratives in the 20th and 21st centuries
On the Danube. A European Literature Project.
The Danube in Literature and Film
Block Seminar "Towns and Cities on the Danube"
Identity Blueprints of Germans in the South of the Hapsburg Monarchy's Realm in Newspapers, Calendars and Literary Testimonies from 1890 to the End of World War I
Literature and Migration. Forms of Arrival. German Literature from Romania after Resettlement in the Federal Republic of Germany
Section at the 5th Congress of the Central European Association of German Scholars: Region(s) of Central Europe – Historical, Cultural, Linguistic and Literary Exchange
Migrants, Smugglers, Border Guards and Border Residents. A Danube "From the Bottom Up"
Head of the research area
Dr. Olivia Spiridon